Saving Cats, Protecting Birds
It all began with sterilizing Lanai's street cats in 2004. That effort was followed by sheltering them in a horse corral in the mountain community of Koele. We were just a small committed group of cat lovers trying to do the right thing on an island without an animal shelter, rescue group or veterinarian. The Sanctuary's founder Kathy Carroll (pictured), a spirited cat lover, who had moved to the island with her artist husband Mike, led these efforts. Her innovation and activism drove the organization in its early days.
A New Beginning
By 2009, the sanctuary relocated to its current site. The site was a plot of land with access to fresh running water and little else, but it was home. Protecting animals – cats, as well as endangered birds – was the driving force.
In 2014, Keoni Vaughn joined as executive director with plans underway to expand of the sanctuary. Establishing a medical system that would enable each cat to have an individualized care plan was the goal. In 2013, a high-tech mobile veterinary clinic was purchased. It was used for onsite care and services including sterilization, X-ray and assessments in a clinic environment. Veterinary teams with experience in shelter medicine were recruited from Oahu and the U.S. Mainland. Joe Adarna joined as Sanctuary manager in 2019 to take over the day-to-day operations.
In the last few years, the sanctuary has expanded its family of cats. It rescues cats from protected areas where native and endangered ground-nesting birds such as the 'Ua'u, the Hawaiian Petrel. Cats are also rescued from Lanai City, which is home to 3,000 residents. As a result, the Sanctuary has brought in more than 600 cats since 2015. In 2018, 200 cats were rescued.
Funding comes from vacationers who visit the sanctuary and give to support our mission.
Above all, Lanai Cat Sanctuary believes that cats deserve to live their best life possible. Governed by a board of directors, it is a 501c3 nonprofit led by responsible, ethical and experienced leadership in animal welfare.
Lanai Cat Sanctuary was built from the ground up by the industrious people who run this first-rate cat haven. What was once dry brushland is now a lush, 3.5 acre purradise. By giving feral cats a home for life, the sanctuary also protects the island's many endangered birds.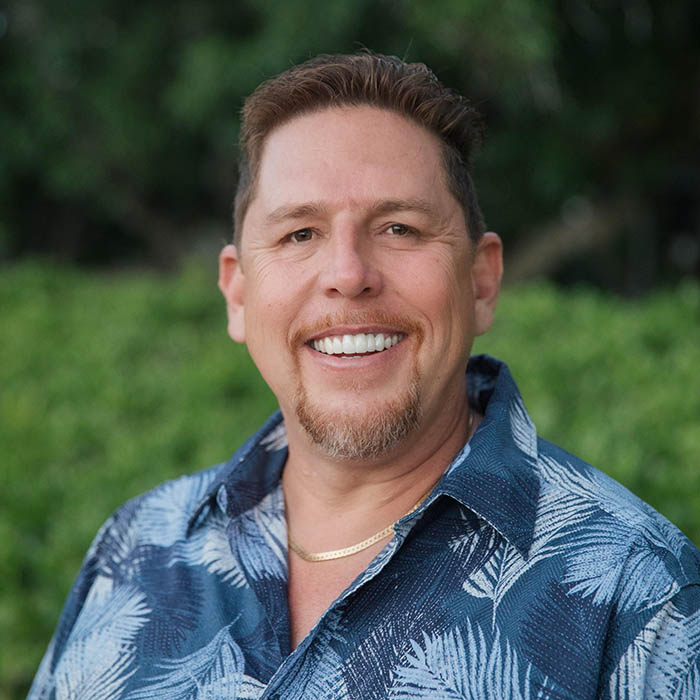 Keoni Vaughn
Executive Director
Executive Director, Keoni Vaughn, has spent his life protecting and caring for animals. Since 2014, he's been on the job raising money, leading capital improvements and expansion. He's increased the population from 350 cats to more than 600 — establishing medical services and a care plan for each. He's worked at Hawaii's largest shelter, headed an animal rescue team where they busted puppy mills, fought for stronger animal protection laws, and partnered with law enforcement to bring bad guys to justice. Call him king of the cats. He's a cat lover who knows how to run a top-notch sanctuary.
Joe Adarna
Sanctuary Manager
Joe Adarna has joined as Sanctuary Manager and brings a wealth of animal welfare leadership, knowledge and experience. Previously, he ran the admissions center for an Oahu shelter and served as an anti-cruelty officer. In both posts, protection and care of cats were his top priorities and passion. He is determined to make Hawaii a better place for felines.
Dr. Ako
Yu
Jolie
Chanel
CB
Sam
Will
Protected birds and cats can co-exist through intervention, collaboration and management. From the mountains to the sea, cats found islandwide, including those captured in remote bird nesting grounds, are brought to live in our sanctuary. We give cats a safe home for life, while ensuring the perpetuation of the island's endangered birds.
"Lanai Cat Sanctuary focuses on solutions and innovation. Its leadership takes a non-divisive approach to their love for cats and birds."
`Ua`u
Hawaiian Petrel,
Pterodroma sandwichensis
Nests on Mount Lāna`i Hale in ground burrows under uluhe fern groundcover.
`Alae Ke`oke`o
Hawaiian Coot,
Fulica alai
Builds nests in floating vegetation in wetland areas.
`Ua`u Kani
Wedge-tailed Shearwater,
Puffinus pacificus
Nests in fragile burrows near Pu`u Pehe also known as "Sweetheart Rock."
Ae`o
Hawaiian Stilt,
Himantopus mexicanus knudseni
Builds nests in floating vegetation in wetland areas.
Who would have thought that a rescue operation that started in a horse corral would someday be a permanent home for more than 600 cats? From the outside looking in, the Lanai Cat Sanctuary sure looks easy. Erect a fence, construct some shelter, landscape, open the doors and call it kitty paradise. Not a month goes by that someone doesn't ask: "How do you set one up? I want to do this in my community." The truth is that animal sheltering is complex, costly and requires expertise. It's not as easy as it looks.
Here are five essential things you should know before starting a cat sanctuary, by our Executive Director Keoni Vaughn.
1) Sniff Out the Numbers
The average cost of having a pet cat is about $1,000 a year. At Lanai Cat Sanctuary, we have more than 600 cats and care costs are slightly less but similar. Each cat has a name, a microchip, a health record and sees a veterinarian. All of the cats need love, quality food, water and shelter. And they need a team of daily caregivers who are continually trained in animal health and care. Budget for an experienced leader to run the organization, ensure responsible use of donations and develop a strategic plan to move the mission forward.
2) Get Frisky About Fundraising
Plan for current costs, ongoing expenses, future ambitions and a reserve. Lanai Cat Sanctuary is peculiar in that very little help comes from the resident population. Government has little interest in funding sanctuaries. The lion's share of funding comes from visitors and donors. Our fundraising model focuses on an alternate approach: tourism marketing, social media and viral videos (one has received 36 million views). And we cultivate the donors who emerge from those sources.
3) Build a Happy Home
Cats need an environment that creates happiness and that includes tall places, open spaces, hiding nooks and shelter from the elements. Indoor sanctuaries are possible but require more rigorous maintenance and disease prevention measures, as well as heating and cooling in most climates. Create a place that people will wildly love, a playground so appealing that guests will happily roll in the grass with the cats. This will not only increase your volunteerism and donations, but allow you to educate more people about cat overpopulation.
4) Medical Care Matters
Lanai has no veterinarian or animal clinic. Plus, there's no electricity at the sanctuary. This requires us to use a mobile clinic with x-ray and anesthesia machines, and have surgery tables onsite. Our veterinary team flies in twice a month to sterilize, treat and ensure the health of every animal. Sanctuary design requires protected areas to keep cats with communicable diseases separated. Welcome areas also hold new arrivals to be thoroughly vetted before joining the larger family of cats.
5) Know When to Stop
Every sanctuary has a limit. Rely on your staff and veterinarian to give you a sense of your capacity. Once your sanctuary starts getting full, you may notice more cat "arguments" or see more cases of Upper Respiratory Infections. These can be indicators of stress due to overcrowding. In communities where there are open admission shelters that handle adoptions, that's where you want highly adoptable cats to go. Save the lives of the other cats that they can't help.
One of the most important tips I give to those who want to start a sanctuary is to keep the faith. You'll be surrounded by experts who think you're nuts, discount the potential, and label the work an unrealistic anomaly. New ideas and new startup ventures have a place at the table. So don't be afraid to buck conventional wisdom.