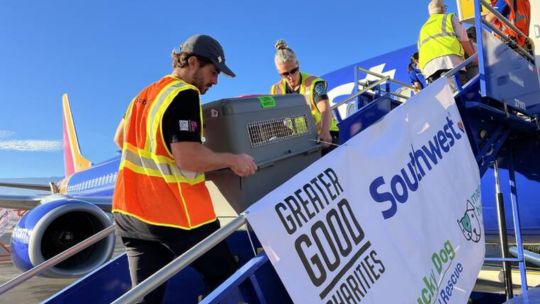 August 2023 – Mahalo to reporter Nina Wu from Honolulu Star Advertiser for featuring us. Read the article below to learn more.
Greater Good Charities, Southwest fly Maui shelter animals to new homes
A tabby cat named Toulouse was among the shelter animals that recently got an emergency lift aboard Southwest Airlines from Maui to Oregon to find new homes in the wake of the devastating wildfires.
Greater Good Charities partnered with Southwest and Lucky Dog Animal Rescue to deliver humanitarian supplies to Maui, then return to Oregon with the kittens, cats, and dogs.
The airlift of the shelter animals frees up space for the influx of injured, lost and displaced pets coming in from the wildfires. The Maui Humane Society has taken in 187 animals from Lahaina and is attending to them at the shelter in Puunene.
Last Thursday, Southwest delivered hundreds of "Good Packs' filled with supplies including T-shirts, blankets, socks, flashlights and hygiene kits to Maui.
The next morning, more than 130 shelter pets from the Maui Humane Society, and about 30 cats from the Lanai Cat Sanctuary, were flown to the Oregon Humane Society in Portland.
Lisa Labrecque, CEO of Maui Humane Society, said in a statement the nonprofit is incredibly grateful for the support it has received from far and wide during this devastating time.
"The efforts organized by Greater Good Charities will help Maui's community by providing space in our shelter and in foster homes, to allow for the ongoing medical care, sheltering, and supplies that pets and their owners affected by the wildfires will need," she said. "A new normal has developed here in Maui, and we will need assistance for months and even years to come."
The Oregon Humane Society has the space, according to spokesperson Laura Klink, because it has a dedicated rescue center built for disaster response and large intakes of animals.
Approximately 90 animals will stay with the Oregon Humane Society and be made available for adoption when ready, while another 40 or so will be sent to San Francisco Bay Area shelters.
To be clear, none of the transported animals were impacted directly by wildfires, but were shelter pets prior to the disaster.
Maui Humane Society, like other shelters across the U.S., had already been at overcapacity months before the wildfires and pleading for SOS fosters to help free up its kennels.
"The response from the community was just incredible because people really wanted to help with the Maui recovery," said Klink.
Toulouse, formerly a resident at the Lanai Cat Sanctuary, was quickly adopted by Melissa Fisher.
Fisher shared on Instagram that in 2021, she met Toulouse hiding in a cabinet at the sanctuary, fell in love, and became a sponsor for his care there.
When she discovered he was among the cats flying to Oregon, she knew right away she had to adopt him. Toulouse will share her home with two other cats.